Thank goodness you are sticking with me this past month...
I have been working 60 hour work weeks, have had crazy on-call rotations, and by the time I get home I leave posts unfinished with no time/energy to do what I love.
Have you been there before?
Yup, it's exhausting and discouraging, but I am finally off my on-call rotation and have plenty of time to get back to what I love doing. Thanks for being there with me through the peaks and valleys... you guys are the best!
I hope you will follow me on the fly
via Instagram (@life_of_meg)!
Instagram is by far my favorite social media and I love, love, love connecting and sharing on there!



HOW TO MINGLE




** Only 3 easy rules - that's all I ask! **
1) Link-up your blog below.
2) Share a link to Mingle Monday on your post or give a social media shout out.


3) Answer the weekly question in the comments section below:




** What are your 4th of July plans? **
_________________________________________________________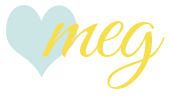 ________________________________________________