Good Morning!
Thanks for swinging on by to link-up even though I've been pretty MIA the last week. I guess that's what working 60+ hours and being on call does to a gal... I could barely do much more than work, make a sandwich, and crash. I even fell asleep at 8pm in my work slacks last week.
Real talk, folks.
Thank sweet little 8 pound baby Jesus, you're still sticking with me! Finally back in the groove this week and can't wait to blog it up! And catch up on YOUR blogs!



HOW TO MINGLE




** Only 3 easy rules - that's all I ask! **
1) Link-up your blog below.
2) Share a link to Mingle Monday on your post or give a social media shout out.


3) Answer the weekly question in the comments section below:

** What is the darnest thing you've ever heard a kid say? **
// Last week a little 4-year-old came up to me and said, "My dad has to drink tea so he can go poo in the toilet!" You should have seen the mom's face.... major TMI - haha! //
_________________________________________________________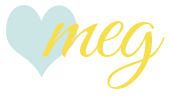 ________________________________________________