Good morning, lovelies!
Welcome back from the weekend. I am slowly in the process of getting properly caffeinated enough to handle a Monday, but thankful for a wonderful weekend
road tripping to see my besties
!
What were you guys up to this weekend? Any notable highlights?
I'm excited to catch up (I'm a wee bit behind on my blog reading... possibly by 7+ days - whoops!) and do a little networking myself, so thanks for swinging by. Don't forget that you can catch me on the fly
via Instagram (@life_of_meg)
. Let's connect!



HOW TO MINGLE




** Only 3 easy rules - that's all I ask! **
1) Link-up your blog below.
2) Share a link to Mingle Monday on your post or give a social media shout out.


3) Answer the weekly question in the comments section below:

** What is your go to way to ease into a Monday morning? **
// To ease into my week, I need mellow coffeehouse tunes, a huge cup of joe, and getting organized with my fave planner! It's the only thing that keeps me sane! //
_________________________________________________________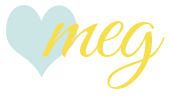 ________________________________________________