H
ey you!
Yes... you.
The gorgeous one right there in front of the computer screen. Oh boy, have I got news for you! Have you signed up for some Christmas joy?
What do you mean, "What does that mean?"...
Today is the
LAST DAY
to sign-up for the super fun Mitten Mixer! Do you love getting packages? Would you like an adorable new pair of mittens sent to you in the mail? Welp, you better click on the button below to find out how fun and easy the mitten swap will be!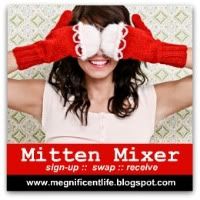 For all of you mitten-loving-mixer-vixens, I will post your partners tomorrow and shoot you an e-mail! Thanks so much for participating - that truly means the world to me!! PS- I already bought my mittens for the mixer and they are ca-ute! Can't wait to send them to one of you!
Thanks Friends!
___________________________________________________

PS- Looking for new followers or fun new blogs? Don't forget that the Mingle Monday blog hop is open until Wednesday at midnight.
Stop by and get your blog some exposure!
___________________________________________________