Hey y'all! Welcome back to the weekly grind!
I'm already missing my relaxing weekend - packed full of girl time and hanging with my sister - but this morning isn't too bad as long as I have coffee and tunes. And I am beyond pumped that today is the first game of team USA in the women's World Cup. Any fellow soccer fans out there?
How was your weekend? Did you have anything noteworthy going on?
Thanks for stopping by to do a little networking! There are so many great blog friends to meet and posts to read - I can't wait! Also, don't forget to
follow Life of Meg on Instagram (@life_of_meg)
for the latest scoop and daily adventures. I'd love to connect with y-o-u!



HOW TO MINGLE




** Only 3 easy rules - that's all I ask! **
1) Link-up your blog below.
2) Share a link to Mingle Monday on your post or give a social media shout out.


3) Answer the weekly question in the comments section below:

** What sporting event is on your bucket list? **
_________________________________________________________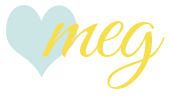 ________________________________________________