Mornin' y'all!
How's everyone feeling on this fine Monday? Although the weekend never quite feels long enough, I was thankful to wake up at 5am feeling rested, happy, and in the right mindset to conquer the day. Are you there yet? Coffee helps! ;)
I hope each of you had a great weekend. Who did something fun? Pool time? Is anyone else a kid at heart and went to see Minions over the weekend? Not that I did that or anything...
Anyway, glad you're here, glad you're you. Thanks for showing up, spreading the word, leaving a comment, and generally making Mondays more awesome! Are you on
Instagram
? I hope you will keep up with me on the go
@life_of_meg
- it's my favorite social media and I love connecting with people!



HOW TO MINGLE




** Only 3 easy rules - that's all I ask! **
1) Link-up your blog below.
2) Share a link to Mingle Monday on your post or give a social media shout out.


3) Answer the weekly question in the comments section below:

** What is your favorite season and why? **
_________________________________________________________
In Case You Missed It...
+ Seattle & Portland - Any Recommendations?
+ Gratitude Lately
+ 5 Hacks for Healthy Meals at Home
+ Currently Loving
+ Chipotle Fans Rejoice!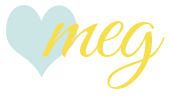 ________________________________________________