Happy Monday, everyone?
I am trying to chug down some coffee as quickly as I can this morning. We had some wild thunderstorms last night so I woke up to a clap of thunder and a jilted puppy in my bed at 3AM. This girl is s-l-e-e-p-y!
Thanks so much for dropping by - excited to play catch up with you!
How was your weekend? Did anyone celebrate National Ice Cream Day yesterday? We celebrated with homemade ice cream sandwiches, and that recipe will be debuting later this week!
One more thing - I'd love to connect with you on the go! Are you on
Instagram
? I hope you will keep up with me on the go
@life_of_meg
- it's my favorite social media and I love connecting and sharing!



HOW TO MINGLE




** Only 3 easy rules - that's all I ask! **
1) Link-up your blog below.
2) Share a link to Mingle Monday on your post or give a social media shout out.


3) Answer the weekly question in the comments section below:

** If you were given the opportunity to have a personaal chef, gardener, maid, or personal assistant for the next year, which would you choose and why? **
_________________________________________________________
In Case You Missed It...
+ Seattle & Portland - Any Recommendations?
+ Gratitude Lately
+ 5 Hacks for Healthy Meals at Home
+ Currently Loving
+ Chipotle Fans Rejoice!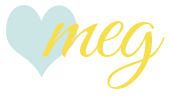 ________________________________________________