Happy Friday, you crazy kids!
In case the day, alone, wasn't enough to put a spring in my step, my awesome boss surprised me with
my favorite hipster coffee
. What a blessing to feel known and well appreciated.
Have I mentioned that I love my job?
Oh yeah... only every day.
Anyway, the weather has been absolutely breathtaking, my hubby is home from work trips, and I have so much to be thankful for.
/ / / / / / /

Grateful for colorful sunsets while cruising through the Flint Hills, and for our shared
love for Frankie Valli.


For getting the VIP treatment (yay free tickets!) with the
world's coolest parents.
For rainy mornings spent at my favorite coffee shop, and bestie chat that lifts my spirit more than
a brand new puppy or Christmas morning,
For being blessed with a surprise dose of encouragement on days when I need it most.
For 20+ years of friendship through all of life's valleys and mountain tops, and stories that
make me laugh so hard my belly aches.
For hotties in white button down shirts that win golf contests like a boss.
For great mail days in small packages that make being a blogger so much fun.
For bravery that pushes me out of my comfort zone, and for new blog friends that are sweeter
Thankful for how just a little gratitude can turn even the smallest things into plenty.
/ / / / / / /
Looking forward to our first low key weekend at home in over a month. I can't wait to just soak it all in. In fact, I may even just live in my jammers with a fresh face of no make-up and a crazy pony. Pure bliss.
Weekend outlook...
+ Enjoying a date night with my other half (Porch night? Movies? The possibilities are endless...)
+ Excessive amounts of sleeping in
+ Lazy breakfast together on the patio and playing with
Beast
+ Catching up with out of town friends over a cookout lunch
+ Being the world's best DD while taking hubs and the boys to
Boulevardia
(wife points?)
+ Teaching and hanging out with my sweet little 4th graders at church
+ Celebrating daddio over a tasty brunch and plenty of outdoor time
// What are you grateful for this week? //
Any wild weekend plans?
Make it a good one, y'all!
Catch you next week for a little Mingle Monday link-up action!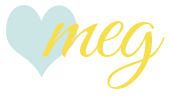 ________________________________________________