That's some title, huh?
Well, the Evans fam has been pretty goofy lately, let me tell you!
Just a few things...
1) We're keeping marriage fun, people...
(PS - I totally kicked some booty!)
2) I have quite the arsenal of costumes with all the Halloween work celebrations!
Gotta keep our cancer patients cheery and smiling, right? :)
I also forgot I had my witch outfit on when I walked into the grocery store yesterday... imagine the looks. If I had a penny for every person who informed me that Halloween was the next day, I'd be a rich lady!
Feeling a bit crabby today... ;)
3) This. Cutest dino in the land, don't you think?
4) Looking forward to a fun Halloween night!
We're heading over to Adam's parents house to pass out candy to all the cute kiddos. Their neighborhood is really spread out between houses, so they drive the kids around via hay rack ride! Isn't that cute? So I love opening the door to 35 princesses, monsters, batmans, and Mike Wazowskis!
// What are you crazy cats up to this Halloween? //
Wishing you a SPOOKtacular day!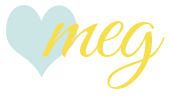 PS
- Don't forget to link-up and gain new readers ALL WEEK at my
Mingle Monday Link-Up!
...