I took the day off to recoop after a week of taking care of family members and a very successful breast cancer walk on Saturday. I'm FINALLY able to share more about the cute little DIY chevron wreath people have been asking about, so I hope you're excited
It's about time, right?
So anyway, I wanted to jazz up the front porch at casa de Evans by creating a fun wreath that I could have up all fall. And it's Oklahoma State colors, so I'm reppin' my alma mater well!
Didn't it turn out so great?
I was moderately shocked.
Supplies //
- chevron printed burlap (15 yards)
- orange solid burlap (10 yards)
- wire wreath frame
- floral wire
Directions //
1) Secure the end of the chevron burlap ribbon to the frame and begin weaving the ribbon in little loops in and out of the frame. Secure the ribbon the the frame with wire occasionally.
2) Once the chevron ribbon has been looped around the inside and outside tiers of the frame, secure your solid color ribbon to the middle tier and begin doing the same thing.
3) Once all the burlap is secured, feel free to jazz it up however you like! I thought a big floppy bow would be cute, so I used extra solid burlap and wired it to the top of the frame.
4) Hang and enjoy!
If you are a visual person, I thought this YouTube video was helpful to watch! Instead of weaving one color through all 3 tiers, I just did printed burlap on the outside and inside, but use this video as a guide to help you with the technique.
I love how easy this would be to recreate with any printed burlap (they have every color and print at Hobby Lobby - polka dots, zebra, sparkly), so I hope you'll give it a try!
Now, go make your front porch the cutest one on the block!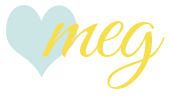 PS
- Don't forget to link-up and gain new readers ALL WEEK at my
Mingle Monday Link-Up!
...