I don't know about you, but at my house we could eat Mexican every single night. Tacos, fajitas, nachos... you name it. I am always on the hunt for another great tex-mex style recipe. Obviously part of the draw is the extra cheesy ooey gooey-ness that's packing a little spicy punch. That right there is my ultimate comfort food, can I get an amen from my cheese lovers out there?!
Unfortunately, my favorite Mexican dishes are not always waistline friendly, so when I was meal planning this week I found
this tasty enchilada recipe
- which would make my enchilada obsessed hubs so happy - and set out to health-ify it with a few swaps. Believe it or not, he couldn't even tell a difference when I swapped protein-packed greek yogurt for sour cream, and subbed in low carb, high fiber tortillas. The flavor is incredible and the sauce makes it so creamy and rich - you would never have guessed it wasn't full fat sour cream!
I also love that I could make this entire dish from start to finish in under 30 minutes, which is a win for all of us, right? And 20 of those 30 minutes was bake time. Yup, you read that right.
While demolishing his second enchilada I asked Adam if the recipe was a keeper, and he said, "We should make this like 3 times a week. SO GOOD." And that is coming from the enchilada connoisseur himself, folks. This is a must try!
Skinny Greek Yogurt Chicken Enchiladas
3 tablespoons butter
3 tablespoons flour
2 cups fat free chicken broth
1 cup 0% plain greek yogurt (I love Fage!)
1/2 cup salsa verde (3/4 cup of you want an extra kick of heat)
2 1/2 cups cooked shredded chicken (I bought a rotisserie chicken and used the breast meat - easy!)
1 1/2 cups shredded pepperjack cheese
1) Preheat oven to 350 degrees. Next, melt butter in a large skillet over medium heat. Once melted, add in flour and whisk while it cooks for 1 minute.
2) Add in chicken broth and continue whisking until mixture is slightly thickened. Remove the skillet from heat. Add in salsa verde and greek yogurt, and whisk until smooth. Set aside 1 cup of the sauce (which will be used later to pour on top of enchiladas). Add shredded chicken into the remaining sauce in the skillet.
3) Spray 13 x 9 casserole dish with cooking spray (don't forget sides and corners!).
4) Add 1/2 cup of chicken mixture in a long skinny line in the middle of each tortilla. You will roll up the tortilla keeping chicken mixture carefully inside, and then place in the pan.
5) Once all 10 tortillas (you may even be able to squeeze in 12) have been placed in the pan, pour the reserved cup of sauce over the top of the rolled up tortillas. Next, sprinkle pepperjack cheese on top.
6) Place in the oven for 20 minutes. Once the initial bake time is complete, turn to broil on high temperature (be sure to crack the oven door an inch or 2 while doing this!) for 2 minutes or until cheese begins to turn golden brown and bubbly.
** Please note, the broiling at the end makes for the best result, so don't skip it... unless you're a crazy ooey gooey cheese hating crazy person! ;) **
And there you go... voila! This recipe is easy to freeze also. Make per directions, don't bake, and wrap super well to fight freezer burn. For a quick dinner, pull from freezer the night before and pop it in the oven for 20-30 minutes the next day!
These enchiladas would also be a perfect hot meal or freezer meal if you are bringing dinner to friends/family as part of a meal train (new parents, hospitalization, etc.).
For more meals ideas and tried & true recipes, check out the
Recipes
tab!
Bon Appetit!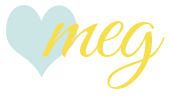 ________________________________________________