Good gracious... we made it to Friday!

I've barely done much aside from work, physical therapy, and home this week. So needless to say, this girl is ready for some good sleep and new adventures to awaken my creativity.
Here's a little snapshot of what makes me super giddy lately.

laughing//
...at
these hilarious photos
captured as people drank another glass of wine - ha! Thanks for sharing Jess!
anticipating//
...our trip to Michigan for a family friend's wedding in May. Adam and I are planning to stop in St. Louis for a day exploring at
City Museum
. If you need us we'll be crawling through every inch of that adult playground... 10 story slide included.
listening//
...to my new favorite Spotify station,
"Evening Chill"
. So many good new tunes, especially
"Bones" by Dustin Tebbutt
.

loving//
...this weather! It's going to be in the 70s this weekend and I plan to be outside pretty much the entire time. Dog park, long walk, dining al fresco, you name it.
...a raised bed garden and I'm super pumped! We have had the structure for years, but we need to do a little garden makeover. Ready to get my hand in the dirt Saturday and plan out what we're going to grow this year! Any green thumbs out there?
reading//
...
"The Life-Changing Magic of Tidying Up"
by Marie Kondo... aka the KonMari method. It's all about pairing down your home and belongings to only keep what "sparks joy". More on this coming next week!
obsessing//
...over organizing and simplifying lately (obviously KonMari sparked something in me). Craving the simple life and loving
The Home Edit
Instagram account in meantime. My inner OCD craziness totally nerds out when I see spaces that are beautiful, simple, and well-organized.

exploring//
...this little
blog post
. My bestie Courtney at
12th & White
posted her favorite interior decor Instagram accounts and they are spot on.
watching//
...
People vs. OJ Simpson
. Anyone else hooked?
loving//
...my
green utility vest
from Gap! It sold out in no time flat, so after calling customer service, I was able to track down one of the last vests in my size in the whole county. A big shout out the Philly, PA Gap! ;)
making//
...a few new baby items for my Etsy store. I'm trying out a few sewing patterns for adorable baby headbands in mod fun fabrics, so stay tuned. I LOVE new projects!
What have you been loving lately, friends?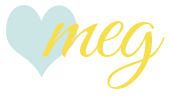 ________________________________________________