Good Morning!
Welcome back to the daily grind. I hope you're bright eyed and bushy tailed (and properly caffeinated) to take on the day. Did you all have a good weekend? Any great stories to share?
Sorry I was a little MIA last week. It was a rough week trying to help friends through the death of a parent and some other friends through a scary health scare, so blogging was the last thing on my mind at the time.
But I'm back with a vengence and have so many fun posts planned to share - stay tuned! I'm so glad you're here! Come link-up, leave a comment (answer the weeky Q!), and hop around. Don't forget to visit
Life of Meg on Facebook
for the latest scoop and a heads up on when Mingle Monday goes live!



HOW TO MINGLE




** Only 3 easy rules - that's all I ask! **
1) Link-up your blog below.
2) You must share a link to Mingle Monday on your post or the Mingle Monday photo.


3) Answer the weekly question in the comments section below and have FUN!

** If you could take a class to learn a cool skill, what would it be? **
_________________________________________________________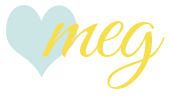 ________________________________________________