When I was laying on the couch with hubs last night, I thought it was Friday. So, you can imagine my disappointment when Adam reminded me I had one more day -
haha!
Needless to say, there is an extra spring in my step today as I know the weekend has arrived. I am already welcoming it with open arms!
Well, I am waiting for 5PM to click by on the clock so we can jump in the car and take in all of the beautiful sunset views that the Flint Hills has to offer. I love that gorgeous Kansas prairie view.
Who said Kansas was boring?
We are heading to Wichita for the weekend to celebrate my cousin's high school graduation (way to go Ethan!) and to spend time with family and friends in my hometown.
I am just ready to throw on my shades, put my toes up on the dashboard and drive into the sunset. I can only imagine that we will indulge in our usual weird road trip rituals along the way...
+ listen to throw back mixed CDs
+ come up with the most obscure future dog or baby names just for funsies
(Adam is a champ... 'Phoenix' (for a kid), anyone?)
+ play the alphabet category game - we could play for hours
+ catch up on the most ridiculous stories or Adam will quiz me on current events
+ play "Hey Cow!"
(a Meg original specialty)
// What's are your favorite road trip rituals? //
.:::.:::.:::.:::.:::.
In case you missed it this week...
Stay tuned tomorrow for an amazing nutella cinnamon roll recipe! Yum!
Happy weekend, you crazy cats!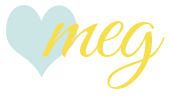 ________________________________________________