Good morning, sleepy heads!
I want to introduce you to the lovely Elizabeth who blogs over at
All Kind of Things
!
After she decided to become a Life of Meg sponsor (100% of my sponsorship income goes to the American Cancer Society), I asked her if she would be interested in guest blogging as a way for me to say thanks.
Thank goodness she said yes, because she has an incredible recipe for you today. I also asked her to share why she is passionate about the fight against cancer and sponsoring, so she has a great story to share following this great recipe!
Without further adieu, here is Elizabeth with this showstopper recipe...
_____________________________________________________________
Hi all, I'm Elizabeth - thanks Meg for asking me to guest post!
Back in the fall, I shared a few of the ways we had been using Crescent Rolls to make yummy treats:
A Whole New Friendship with Crescent Rolls
. Then, I chatted more about this in my
February Link-Up
with "Chatting at the Sky". When I recently spotted
this method
from Mix & Match Mama, I felt another crescent roll post was in order. With that being said, I now introduce...

Ingredients:

1 Can of Crescent Rolls
1 tablespoon butter, melted
1 cup of Nutella
2 teaspoons cinnamon


Directions:

1) Preheat your oven to 400 degrees.

2) Unroll your Crescent Roll sheet. Press down the seams in order to create a rectangular shape of dough.

3) Evenly spread your melted butter across the dough. Next, spread your Nutella then sprinkle your cinnamon on top of that.


4) Roll it up, slice, and bake for approximately 10 minutes!


I decided to go without a glaze, but you can use 1-2 tablespoons of powdered sugar and a couple of splashes of milk to create the glaze. Refer to Mix & Match Mama's post for more details. This recipe is super easy and completely perfect for Saturday mornings at home - ENJOY!
.:::.:::.:::.:::.:::.
Why I decided to become a Life of Meg sponsor...
In 1999, I lost my grandmother when her second round with breast cancer took her life. She was a fighter - a survivor until her late 80s! A wife, a mother, a teacher, a grandmother...she had touched many lives, and losing her brought me face-to-face with the reality of cancer.
A couple of years later, my grandfather (her husband) passed away. He had also battled cancer and had many successes in his fight. They were blessed with many years and for that, my family is thankful. My aunt is a two-time breast cancer survivor, and my uncle (her husband) is a two-time prostate cancer survivor! How thankful we are for the recent reports of good news they have received.
Just last year, I had 10 inches cut off of my hair - I finally followed through with a promise I had made to myself a number of years ago. In 2005, I committed to growing out my hair with plans to eventually cut it and donate it to a program that assists cancer patients in their search for a wig.
So many of our friends and family have been touched by cancer, and while I do not personally know many who have taken advantage of Pantene's Beautiful Lengths' campaign (and American Cancer Society free wig program), I love what this company stands for, and I know that so many people benefit from the donations they receive.
This year, I am excited to partner with Meg in her support of the American Cancer Society. In honor of those who are no longer with us...In honor of those who are still fighting...In honor of those who will someday face a battle like no other, I challenge you to give!
____________________________________________________
Thanks so much Elizabeth!
Everyone go stop by her blog and say hello!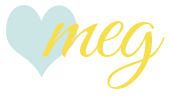 ________________________________________________