Today I am thankful for hot green tea, gifted snowflake cuppies, Beast snuggles, and sweet texts from hubbers checking on me all day. Here's to hoping I can kick this yucky bug and enjoy a restful weekend.
In case you missed it this week...
+ mingle monday weekly link-up
+ 2013 in review
+ cheers to new adventures
Wishing you a weekend full of lazy mornings and hot flaky pastries.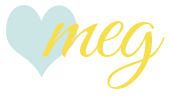 PS - Brand spanking new Facebook page has finally launched. Keep up with Life of Meg via Facebook
HERE
!
...