Well, my friends, 2013 was a heck of a year!
I lived vicariously through the year's beautiful memories in this post on New Year's Eve, and it was so fun looking back.
Now, that we've let the champagne freely flow (and trust me, I mean
freely. flow.
) and rang in the new year surrounded by people we love, it's time for a fresh start. And I welcome it with open arms.
I know there are so many people who view New Year's resolutions as cliche and empty. But you know what? I secretly love them. I thrive off of the grace that a clean slate has to offer. For me, the new year is a time to refocus, let things go, and move on to new adventures.
The hubs and I were discussing ambitions for the next year while we laid in bed last night -
and wow -
love that man. It's so easy to share my heart with him, as he is the world's best listener. Thankful for the support and inspiration he offers my crazy ideas and dreams.
So I come to you today refreshed, motivated, and with a pocket full of plans for new adventures.
Here's what 2014 brings...
My Word for 2014: Adventurous
My adventures:
+ learn to sew
I was graciously gifted the most amazing sewing machine by my parents and hubbers for Christmas. Just staring at it has me both excited and completely terrified, but I am set out to learn how to sew and tackle one project a month, and boy is my list growing!
+ baking/cooking goal
After reading
one of my absolute favorite blogs
, I just loved this idea. To create something new each month. I want to tackle recipes that intimidate the heck out of me. Things that seem daunting or that I quite simply never made time to try. Stay tuned...
+ slim down
I was doing very well staying healthy last year as our impending wedding helped keep me accountable with eating clean and working out. After the wedding, I easily packed on 5 lbs. alone in honeymoon pina coladas (worth it), and then allowed myself to easily add another 15-20 pounds over the year by making indulgent dinners for my new hubby, and letting his man portions influence what I put on my plate. I simply want to feel like my healthier self again.
+ organize/simplify
More is less, and what the Evans household absolutely needs is more less. Looking forward to a mess free home with less stuff and more heart.
+ blog better
I absolutely love this little diary of mine with all of my might. There are times when I feel like my creativity is too big to be contained, and other times where I feel defeated and burn out. This year, I want to become a better blogger. A passionate blogger. A blogger who is true to herself through and through. To blog from my heart and record life's precious blessings and moments, but not out of obligation. I want to grow as a blogger, and have this blog be an honest reflection of my life.
Our adventures:
+ be active
We have come up with a plan where both of us can enjoy being active and working out together. The two of us have come up with a great plan to repurpose the dead space in our loft for our own home gym. Our little sitting room with a treadmill wedges into it isn't quite cutting it. Looking forward to having multiple ways to workout from home when the gym is packed and we're feeling lazy. Accountability and team effort is key.
+ explore local
Our dear friends from Colorado started this amazing idea years ago. Each year they pick a category (ie: restaurants, attractions, etc.) and try something new within their city monthly. Adam and I are absolutely in love with Kansas City, but there are so many nooks and crannies left to be discovered. This weekend we have devised a plan to make our list, and I know we'll get to do some great adventuring together.
+ save
Our wedding, unexpected home repairs, holiday, etc. have taken a toll on our savings, and we're ready to get back on budget and simplify. With the dream of a future new home in mind, Adam and I are motivated.
+ community & service
Over the next year, the goal of continuing to foster community and friendships is at the forefront of our mind. We love welcoming friends to our home once a week when we do Monday Family Dinner, and want to continue loving on people and making new friends. We both have a passion for service, so whether we are giving our time and love to our friends, family, church, or volunteering, it's so lovely to grow and pursue this together.
.:: What goals are you looking forward to tackling this new year? ::.
Looking forward to many adventures in 2014!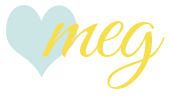 PS - Brand spanking new Facebook page has finally launched. Keep up with Life of Meg via Facebook
HERE
!
...