Today over my lunch break I made a trip out to Parkville, Missouri (a quaint suburb of Kansas City
where we got married
) to run a few errands. While driving around the charming little town with my windows rolled down and an iced coffee in my hand, I was flooded with memories of
my most favorite day.
The more I let the memories roll in, goosebumps just washed over my arms and I couldn't stop smiling. I couldn't help but feel overcome with so much joy and gratitude... I married the man of my dreams.
I still remember...
+ waking up next to my sissy with a stomach full of happy butterflies
+ lounging around and giggling all day while my best friends and I all got ready
+ the way Adam's face lit up when he saw me for the first time in my dress
+ feeling giddy (read: trying not to erupt in tears) as my dad walked me down the aisle
+ my mom's insanely sweet dance moves - stanky leg, y'all - and yes there is photo proof
+ having the time of my life on the dance floor
+ how much I wanted to eat our entire delicious coconut milk wedding cake
+ the feeling of being guided to our limo with my hand in Adam's ready to start our new life together
+ and how overwhelmed with love and gratitude we both felt to have our most favorite people with us
Today I'm grateful for...
+ drives that take me off the beaten path
+ memories that make it all seem like yesterday
+ how incredible my husband is and how much of a blessing marriage is in all seasons
+ and for the awesomely creative ways God shows me how much I am known, loved, and remembered, and the gratitude that freely brings
What are you thankful for today, sweet friends?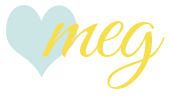 ________________________________________________