H
eeeellllllooooooo Monday morning lovers!!!
Haha, jk. Who on earth actually loves Mondays? I'd like to meet such a person, because apparently I have a lot to learn from them! ;)
So tell me about your weekend - how was it? Did anyone get to celebrate with or honor their dads? I had a blast with my Mom and Dad in Kansas City this weekend!
Yesterday, I made Dad this spectacular
Blackened Chicken w/ Cilantro Lime Quinoa recipe
(which they RAVED about - try it ASAP!), as well as this
Rustic Peach Pie
(uh-mazing!) topped with vanilla bean ice cream.
I'm a little cooking machine, and subsequently my Dad's favorite child (
eh, Linds and Kelly?!
).
Anywho, if you are new to my humble little blog, I want to warmly welcome you from the bottom of my heart. Every single comment you leave me truly warms my heart! I hope you enjoy the week-long Mingle Monday blog hop and will be back again soon!
Please introduce yourself - I'd love to personally say hello! :)
_________________________________________________

{ Time to Mingle! }
.::::...::::...::::...::::..::::.


Pretty Pretty Please...

If you could find it in your big heart to pass the Mingle word along... I will love you forever and ever and ever... and ever. Twitter. Blog post. You name it, I love it.

In all seriousness, I truly appreciate each one of you who take an extra minute to go the extra mile each week! I cannot thank you for your sweet generosity enough! Let's add to this party!

{ Many thanks! }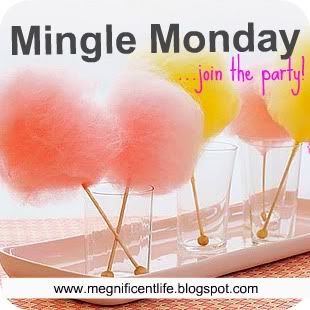 _________________________________________________





How To Mingle:







1) Must be a [Life of Meg] follower to participate.




2) Scroll down to the bottom of this post and click on the link to enter your blog.




3) Go visit other blogs saying hello from Mingle Monday!




4) Answer the weekly question...




** Any summer reading recommendations? Puh-puh-please! **




_________________________________________________







_________________________________________________







Can't wait to visit your blog!! Please remember that the blog hop is open all week long, so spread the word!!

Don't miss out on the super fun

Soak Up the Sun blog gift swap

! Sign-up closes

THIS WEDNESDAY

at noon, so don't miss out!! And for all of your wonderful blog friends who have signed up, thank you! This is going to be a blast - can't wait to see who my swap partner is this time! :)

Also... I am now offering

extremely affordable sponsorship opportunities

- $10-22! If you are interested in advertising your blog, Etsy shop, or small business at a really great low price,

please check out my sponsor page!

Let's get your some exposure!





Wishing you a week full of glitter and puppy dogs!
(...or whatever floats your little boat!)