Whew, what a morning! After waking up this morning approximately 3 minutes before I normally leave for work, and scrambling to get my biz together, my morning was quickly turned around with such a nice surprise.
The lovely ladies at
Go Blog Social
selected me to do a blogger feature on, which is so very humbling! Go
check it out
for a little behind the scenes of Life of Meg, why I blog, blogging advice, and what inspires me daily.
Thank you, thank you, thank you!
Day = made.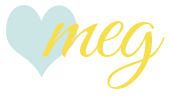 ________________________________________________