Do you ever feel completely lost when you walk down the beauty aisle?
There are an overwhelming amount of products staring you in the face and who knew there are
4,756 different kind of mascara?
Seriously.
What's a girl to do?
So I always love the annual Allure beauty awards issue that helps point their readers toward the best of the best, tried and tested products to buy. And what's even better? Personal recommendations from family and friends raving about their new favorite finds.
After all, that's what girlfriends are for, right?
So I'm sharing my favorite go to beauty buys with you today, my friends!
1) Origins Clear Improvement Active Charcoal Mask
If you have acne prone skin or are in need of deep pore cleansing, this mask is for you. I use this mask about 1-2 times a week, especially if my skin needs a little clarity boost. It's easy to apply to your skin, simply let it dry and work it's magic, and rinse off 10-15 minutes later. The second I rinse my face, my skin feels so much cleaner and already is softer to the touch.
2) Aveeno Positively Ageless Night Cream
I bought this two years ago on a whim after reading product reviews and I couldn't be more sold on this night cream! Just within a night or two I could tell a huge difference in the reduction of fine lines, puffiness around my eyes in the morning, and skin texture. My face feels like silky
buttahhhh
the next morning (I hope you read that in a Paula Dean accent).
3) Cetaphil Daily Facial Cleanser
This is my dermatologist's favorite product, I kid you not. She said that Cetaphil is the best face cleanser someone could use due to it's gentle cleansing ability that won't irritate the skin. It completely removes my make-up after a long day with no residue. Just fresh, healthy skin.
4) Maybelline Dream Matte Mousse
This was chosen by Allure as one of the best drugstore purchases for foundation, and after trying it recently, I can't get enough. To the touch, the product is so light and fluffy on my finger tips, but it skims over my face like silk with great coverage. I don't understand how a product so airy can have such great coverage with a lightweight feel, but I love it. Definitely try this out!
5) Maybelline Instant Age Rewind Eraser Dark Circles Concealer
Oh man, I just picked up this little miracle after my old concealer started looking too cakey once it set. So when I already have dark circles and blemishes, why on earth would I want to add blobs of concealer on top of all of that to point it out? No thank you! But I love this one. You just turn the concealer stick and it pumps product into the sponge tip. Dot it on, blend, and you have flawless coverage.
Goodbye dark circles!
6) Revlon Nearly Naked Powder
I have been looking for a pressed powder that doesn't leave me looking like I have fresh baby powder sitting on my face. My goal is not to look like a geisha, but to have a shine-free light look. This powder creates such a smooth flawless finish, and really does make your skin look like your skin is naturally that even. I love how light and airy it feels, and it simply sets my make-up for the day with a silky matte finish.
7) ELF Bronzer and Blush Duo
Okay, this is a major best buy, and half of the reason is the price - $3! If you haven't checked out the ELF line at Target, you definitely need to! They have a really great line of cheap make-up and brushes that ranges from $1 eye shadows to $3 make-up brushes - and they're awesome. This bronzer/blush duo is no exception. Great color combo and it's so nice to have both in one compact. I had a friend go from the most popular NARS blush/bronzer duo (pricey!) to this one because it's that awesome of a buy.
8) CND Stickey Base Coat
If you want your nail polish to stay on twice as long, buy this. My sister had been raving about it ever since a nail technician told her it was the best nail product, and they were right. Just apply as a base coat and watch in awe as your fresh manicure stays looking fresh without chips. I'm talking a whole 1-2 weeks with a fresh mani!
So there you have it. All of these items are my personal favorite beauty choices and aren't product reviews, so you know these are keepers!
So I'm curious... what are your favorite beauty buys?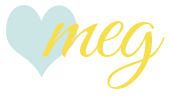 PS
- Don't forget to link-up and gain new readers ALL WEEK at my
Mingle Monday Link-Up
!
...